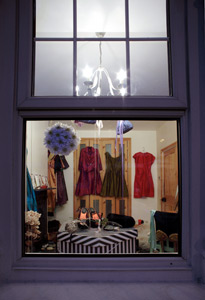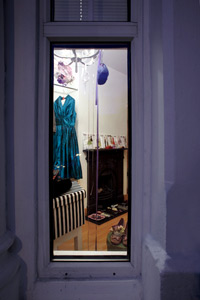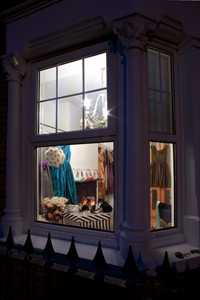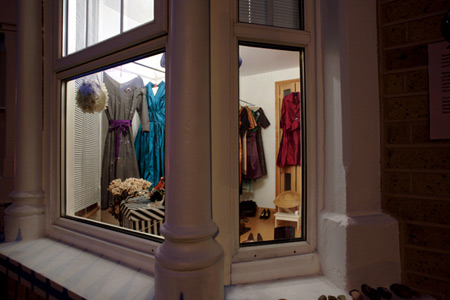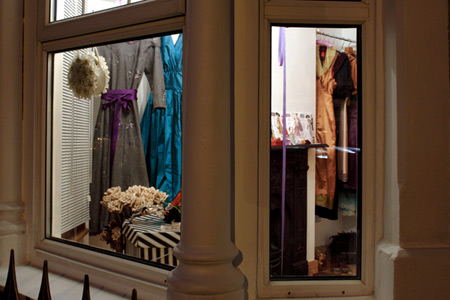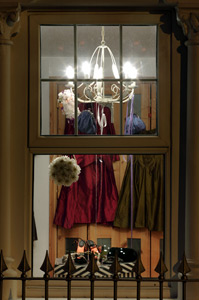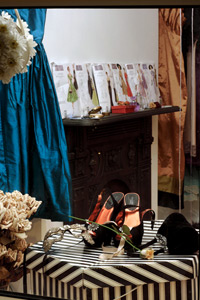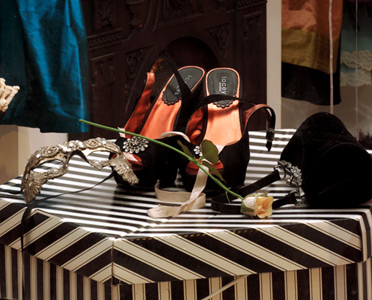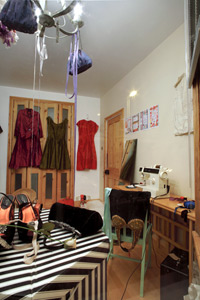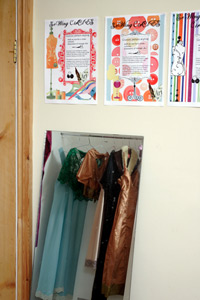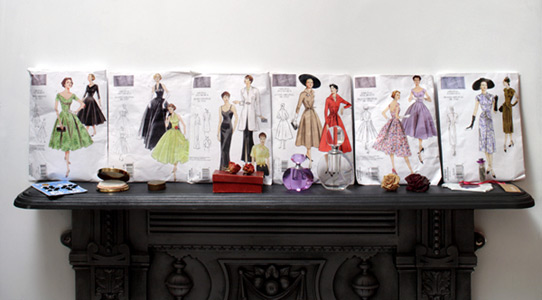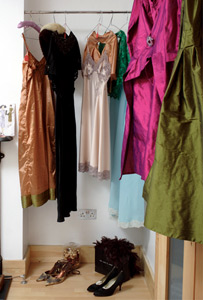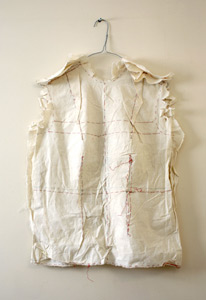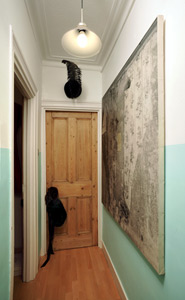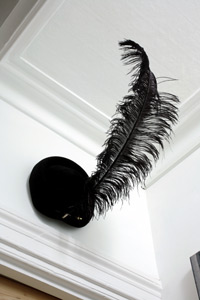 Dressing Room (the make-believe vintage fashion shop)
(A New Concept in Window Shopping) from Alison Marchant's Small World projects
Drawing upon the voluptuously beautiful within the dynamic of cross-cultural chic, the installation replicates a vintage clothes shop. It displays silk and wool dresses constructed from an archive of vintage Vogue patterns combined together with a small collection of loaned vintage or vintage replica garments made by/loaned from residents of the artist's neighbourhood. Each garment is labelled with a small red label (indicating 'sold') identifying the name of the sewer/donator.
This inspirational phantom piece, lit-up and viewable from the night-street, invited passers-by to reclaim the lost art of sewing once widely shared outside mass production.
The careful arrangement of dresses, and accessories forms a series of still-lives. A feather scarf in a 'French Connection' bag changes the reading of what the French connection might be. This relates to the paper patterns on the mantel – a memory of the renaissance of Parisian couture 1947 -1957 where dresses were constructed out of acres of material and were built to last. Couture however was only available to the elite – and also represented a class divide. By contrast, Dressing Room displays 'chic on the cheap' (without looking cheap), where style is available to all those who are prepared to go slow and do-it-themselves…searching second-hand shops in favour of the culture of hand-me-down … fostering resourcefulness through longevity. Dressing Room sites 'make do and mend' over exploitative throw-away culture.
Thanks to Stratford Village Residents: Ali & Nazim of Aldworth Road, Liah, Siphelele, Paula, Janmell & Christophe of Vernon Road, Nasma of Tennyson Road, Nick & Anita of Faringford Road.