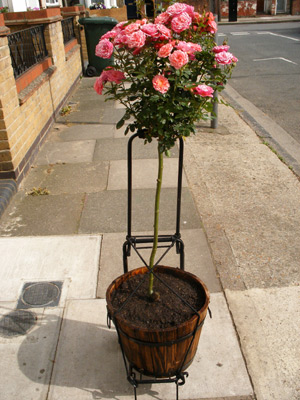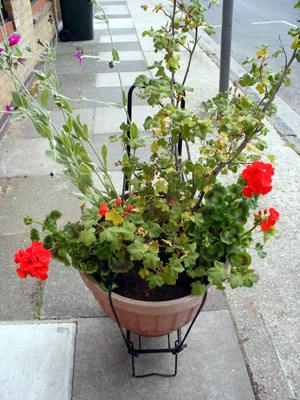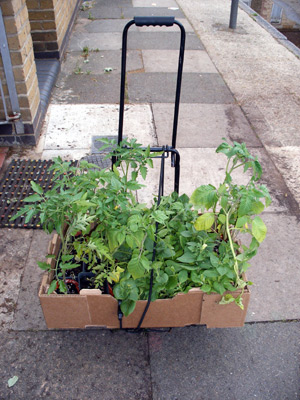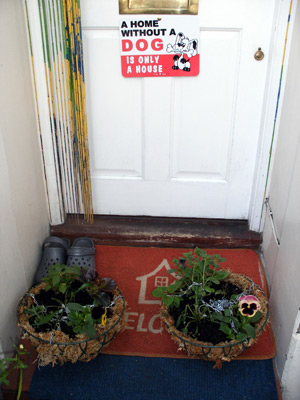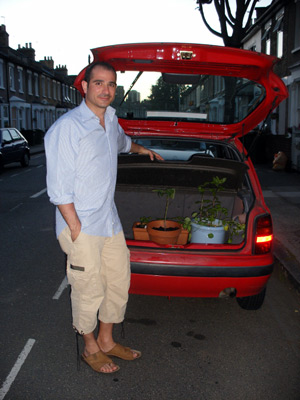 Plant Shop Deliveries
The plant shop deliveries formed part of Small World's Unconventional Plant Shop, where the artist Alison Marchant lived out a fanciful existence as social interventionist, florist, gardener and delivery girl in sunshine and rain. Throughout the Spring and Summer months of 2008 a series of events in response to this activity emerged.
A resident stood outside his house on Faringford Road and simply watched as a Worland Road resident, Eamon, assisted Alison to cane up some flagging tomatoes belonging to the children's garden in Vernon Road. One evening as she passed he said 'It's the flower lady', as this had become her nick-name. Another resident who thanked a neighbour for a hanging basket became intrigued when the response was 'it wasn't me but I did see the back of a blond disappear around the corner' – this was a regular occurrence. Seeing some dying plants in a container in Aldworth Road the artist knocked on the door and as there was no one in she took the container to Small World for replanting. As she turned the corner to Vernon Road she became aware she was being chased by a irate resident who was relieved to discover that she was being included in the reGeneration project. One evening the artist had installed 50 hanging baskets to existing hangers throughout Stratford Village. Other residents knocked on the door of Small World bringing their containers into the back of 'the shop' for planting. These were also delivered to elderly residents on the trolley – the artist manoeuvring the trolley up and down the Stratford Village streets became a regular sight and situation.