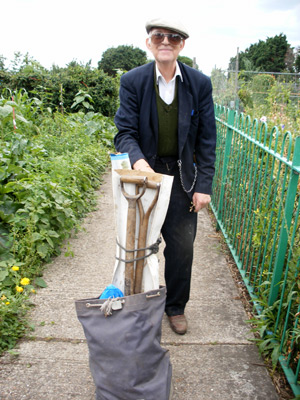 Folkstone Road Allotments
The East Ham Allotment Society is located in Folkstone Road, a huge green oasis of around 120 plots in Newham, East London. These are the allotments that artist, Alison Marchant commissioned to plant flowers, herbs and vegetables from seed for the residents of Stratford Village to plant out in their front gardens for the reGeneration project.
Each June/July East Ham Allotment Society holds 'Massive Sales' of their plants at their allotment and at local events and festivals. They sell a variety of tomatoes, gooseberries, giant pumpkins, purple and yellow climbing beans, strawberries, peppers, lettuce, and also vegetable spaghetti, cucumber, sweet corn, courgettes, aubergine, melons. parsley, mint, chervil, thyme, lemon balm, basil, coriander, marjoram, sun flowers, bizzy lizzies, marigolds, pansies, verbenas, poppies and much more… These are all sold much cheaper than at the garden centres and are grown in a local organic environment which means you also save on resources too – this is slow food and flowers, delicious and beautiful.